Columbus M3
·
Multiple locations
·
Hybrid Remote
M3 Business Consultant & Project Manager
Motiveras du av arbete som påverkar världen till det bättre?
Du sätter dig framför datorn med en kopp kaffe för att starta dagen. Dagens första aktivitet är förberedelser inför dagens möten. Du ska bland annat, tillsammans med ditt team, guida kunden i digitaliseringen av produktion och användningen av energikällor. Era insatser gör skillnad för framtidens optimering och lagring av solenergi 🌞 Digital transformation for a better tomorrow – på riktigt!
Vi söker dig som vill vara en del av något av våra team i Malmö, Stockholm, Göteborg, Linköping, Kalmar, Borlänge eller Växjö.

Varför Columbus?
Vad skiljer Columbus från andra konsultbolag inom IT? Jo! På Columbus har vi en gedigen branschkunskap och stort utbud av digitala lösningar som levereras med stor kundfokus. Våra olika affärsområden kan dra nytta av varandra och arbeta med samma kunder i olika skeden av sin digitalisering och därmed erbjuda specialistkunskap. Som branschledande inom M3 har vi ett stort internationellt kontaktnät av konsulter. 
Vi hjälper våra kunder att forma hållbara lösningar efter branschspecifika behov så att de kan nå sin fulla digitala potential.

Rollbeskrivning
Vi jobbar i projektform och du är delaktig i implementations- och uppgraderingsprojekt inom Infor M3 CloudSuite, som affärkonsult eller projektledare. Våra kunder finns främst inom den tillverkande-och distribuerande industrin men även inom Finance, Food & Beverage och Fashion.
Som Affärskonsult arbetar du med verksamhets- och processanalys till konfigurering och slutanvändarutbildning, rådgivning och problemlösning, ofta i samarbete med kund och projektteam men också i form av självgående arbete. Du analyserar och skapar förstålse för kundens kritiska affärsbehov och utmaningar samtidigt som du transformera behoven till lösningar och funktionalitet i systemet. 
Är du Projektledare med vana av att leda M3 projekt kommer du även vara kundansvarig, med stort ansvar för att inte bara leda projekten men att utveckla kundernas (och därmed vår) affär ytterligare. Du är nyckeln till gott genomförande och fortsatt utveckling av affär och kundrelation! 
Du har med dig
Erfarenhet av att delta/driva implementations fletal projekt för affärssystemet M3 i rollen som affärskonsult, där du levererat goda resultat 
Förmåga och intresse för att agera rådgivare, analysera och diskutera kunders affärsprocesser
Oavsett om du är en 🌟 inom finance, produktion, inköp, fashion eller supply chain kommer du vara eftertraktad hos oss! Precis som om du kan integrationer eller är en klippa på projektledning! 
Du mår som allra bäst när du har ägandeskap över dina arbetsuppgifter och ges frihet att planera din tid.  Det här är en lösningsorienterad och serviceinriktad roll där du arbetar nära kund och kollegor, ansvarar för och driver dialog med kund för att hitta de bästa lösningarna. Det innebär att du har förmåga att förstå olika flöden och processer samt har en känsla för användarvänlighet. Hos oss har du möjlighet att påverka och effektivisera kundens processer med olika lösningar. Då dokumentation och möten hålls på engelska och svenska behöver du vara flytande i båda språk. 

Ansökan och nästa steg
Intervjuerna sker löpande och du kan ansöka med din LinkedIn eller CV och utan att fylla i några långa frågeformulär. Rekryteringsprocessen kommer innebära en telefonintervju, logik- och personlighetstest samt möten med chefer och medarbetare internt. Allt för att du, likväl som vi, ska känna att vi verkligen är en bra match. Har du några frågor om rollen så är du välkommen att kontakta Tove Hiller. Varmt välkommen in med din ansökan!

Mer om oss
Columbus är ett värdestyrt bolag med engagerade medarbetare som stöttar varandra i både framgång som motgång. Att ha en god balans mellan arbete och fritid är en självklarhet. Det kan vara allt från hämtning och lämning på förskola till väntan av det där paketet som ska levereras hem "någon gång mellan 10-19". Dessutom så är vi riktigt bra på att fira framgångar och det är inte ovanligt med fika, lyxfrukost och AW på kontoret. 🥳

Spana in vårt Insta-flöde för att få en bild av hur det är att jobba hos oss genom våra kollegor. Klicka på bilden eller länken för att komma till Instagram-kontot.

Helt ofiltrerat har vi samlat in omdömen från nuvarande och tidigare kollegor. Klicka nedan för att läsa mer.
Department

Role

M3 konsult

Locations

Remote status

Hybrid Remote

Employment type

Full-time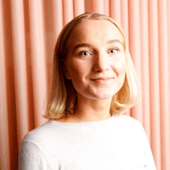 Contact
Tove Hiller
Talent Acquisition & Employer Branding – Global Functions
About Columbus
We bring digital transformation so our customers can thrive far into the future.

Columbus is a global IT services and consulting company and we are experts in designing, developing, implementing, upgrading and maintaining digital business applications. Our mission is to help our customers to gear up for the future and to succeed in the digital transformation. Any change is daunting but we will be there, every step on the way.
Our secret to success is a comprehensive solution portfolio, deep industry knowledge, extensive technical expertise and profound customer insight. And of course, our entrepreneurial environment, passion to develop ourselves and strong team spirit. This has worked very well for us for over 30 years.
Are you ready to transform with us?
Columbus M3
·
Multiple locations
·
Hybrid Remote
M3 Business Consultant & Project Manager
Motiveras du av arbete som påverkar världen till det bättre?
Loading application form
Already working at Columbus ?
Let's recruit together and find your next colleague.