Customer Experience & Engagement
·
Multiple locations
·
Hybrid Remote
Business Consultant CRM
We usually respond within three days
Columbus är på en tillväxtresa och så även vårt affärsområde Customer Experience & Engagement (CXE). Marknaden för CRM blomstrar och det är verkligen en spännande tid att ansluta sig till Columbus och vårt CXE-team! ⭐
Vårt CXE-team hjälper företag över hela världen att utforma och leverera utmärkt upplevelse till sina kunder under hela kundresan. Vi har starkt partnerskap med de största aktörerna på marknaden - Microsoft och SalesForce och arbetar i stora projekt. Delar du vår passion för att möjliggöra utmärkta kundupplevelser? 
Dina arbetsuppgifter
Du kommer att få arbeta i en bred roll med varierande uppgifter. Du kommer att få arbeta i våra system, stötta i konfigurering och ta en rådgivande roll gentemot kund. Dagarna kommer att se väldigt olika ut men generellt jobbar du nära kund och är bryggan till utvecklarna.
En vecka kan innehålla veckomöten med kund, problemlösning, att titta på vad som är fokus just nu och driva på vad som behöver göras. Det är avstämningar, konfigurering, dokumentation efter projekt och identifiera vad som kan effektiviseras.
Vi arbetar hybrid så dels inhouse på vårat kontor, men såklart med tillgång till arbete hemifrån. 

Din profil
För att lyckas i denna position som Business Consultant så har du god kunskap inom CRM och är van att konfigurera. Utöver systemkunskap så söker vi också konsultmässighet där du gillar att vara bryggan mellan kund och utvecklare. Du är affärsmässig, vågar utmana och tänka nytt. 
Du har minst två års erfarenhet av något CRM-system, gärna D365 CE
Har du dessutom någon certifiering är det meriterande
Du har kännedom om hur processerna ser ut
Du behärskar svenska och engelska i både tal och skrift

Varför Columbus?
Columbus är destinationen för människor med en önskan och nyfikenhet att utforska framtiden och ha kul medan de gör det. Utöver möjligheten att arbeta i en växande organisation, med den senaste tekniken erbjuder vi omfattande inlärnings- och utvecklingsmöjligheter. Du får en chans att arbeta med ett brett utbud av spännande projekt där du kan påverka företag över hela världen. 

Anställning och kontakt
Vi erbjuder heltidsanställning med tillträde efter överenskommelse. Intervjuer kommer att hållas löpande.
Ansök med din LinkedIn-profil och/eller CV.  Om du har några frågor om tjänsten är du välkommen att kontakta ansvarig rekryterare Daniel Sparrow.
Som en del av vår rekryteringsprocess så har vi ett logisk- och personlighetstest. Detta ligger till grund för oss att göra en mer objektiv bedömning. 
  

Om Columbus

Vi har i över 30 år erbjudit kunder digitala lösningar, och för att skryta lite – har vi gjort det väldigt framgångsrikt. Vi är stolta över den feedback vi får av våra kunder. På Columbus har vi en omfattande branschkunskap som kombineras med ett stort utbud av digitala lösningar och en rejäl dos kundförståelse. Vår strävan är att bli kundens "Trusted Advisor" och vi hjälper och vägleder kunden i alla delar av processen. Vi bygger, implementerar och förvaltar affärslösningar, lägger strategi och inspirerar! Summa summarum, så hjälper vi våra kunder att forma lösningar i toppklass efter branschspecifika behov så att de kan nå sin fulla digitala potential.
Columbus är ett värdestyrt bolag med engagerade medarbetare som stöttar varandra i både framgång som motgång. Att ha en god balans mellan arbete och fritid är en självklarhet. Det kan vara allt från hämtning och lämning på förskola till väntan av det där paketet som ska levereras hem "någon gång mellan 10-19". Vi lämnar utrymme för återhämtning och ser till att arbeta proaktivt med blicken på horisonten. Dessutom så är vi riktigt bra på att fira framgångar och det är inte ovanligt med fika, lyxfrukost och AW på kontoret. 😊
Vi lever efter våra värdeord – Stay Curious, Build Trust, Collaborate och Deliver Customer Success
Jobba på Columbus
Spana in vårt Insta-flöde för att få en bild av hur det är att jobba hos oss genom våra kollegor. Klicka på bilden för att komma till Instagram-kontot. 
Helt ofiltrerat har vi samlat in omdömen från nuvarande och tidigare kollegor. Klicka nedan för att läsa mer.
Department

Role

Business Consultant

Locations

Remote status

Hybrid Remote

Employment type

Full-time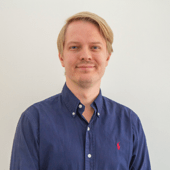 Contact
Daniel Sparrow
Talent Acquisition & Employer Branding – Global Functions
About Columbus
We bring digital transformation so our customers can thrive far into the future.

Columbus is a global IT services and consulting company and we are experts in designing, developing, implementing, upgrading and maintaining digital business applications. Our mission is to help our customers to gear up for the future and to succeed in the digital transformation. Any change is daunting but we will be there, every step on the way.
Our secret to success is a comprehensive solution portfolio, deep industry knowledge, extensive technical expertise and profound customer insight. And of course, our entrepreneurial environment, passion to develop ourselves and strong team spirit. This has worked very well for us for over 30 years.
Are you ready to transform with us?
Customer Experience & Engagement
·
Multiple locations
·
Hybrid Remote
Business Consultant CRM
Loading application form
Already working at Columbus ?
Let's recruit together and find your next colleague.